THREES
| | |
| --- | --- |
| Age: | Age 3 by November 15th |
| Days: | Tuesday/Thursday |
| Times: | 9:00am- 11:30am |
| Rate: | $146 per month |
The Threes Class is predominantly a group of young three year olds.  The primary goals for this group of children include:
Developing comfort/trust and competence in managing the separation from their parent.  For many of them, this is their first experience with out of home care in a group setting.
Forming an attachment bond with the teachers
Full exploration of the classroom materials
Progress on the continuum from parallel to cooperative play.
Fledgling friendships
The "projects" tend to be mostly sensory in content with little expectation of an end product.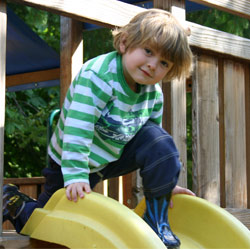 FOURS
| | |
| --- | --- |
| Age: | Age 4 by November 15th |
| Days: | Monday/Wednesday/Friday |
| Times: | 9:00am- 11:30am |
| Rate: | $219 per month |
The Fours Class is primarily four year olds.  Most of them are in their second year of preschool and are more comfortable with the idea of saying goodbye to their parent.  They come in full of energy, are confident of their relationship with their teachers and most of them know the other kids and the classroom.  During this year teachers work with students to:
Really focus on the further development of positive social skills
Support the deepening of friendships
Encourage flexibility in the activities they choose, the friends they play with, etc.
Support and encourage the expanded social awareness that comes with being four
Provide them with materials they need for "construction" – whether that be blocks related or art
Increased fine motor attention
TONS of rhyming and pattern play
And even more gross motor stimulation and engagement
The four year olds are more enthusiastic about dramatic play and pretending.  They can sustain a group play session of "fire fighter" or "BEAR!" for an extended period of time and continue it over several days.  Class time involves reading slightly longer stories, and teachers "tell" more stories and of course all continue to enjoy rhyming chants and finger plays.
PRE-K
| | |
| --- | --- |
| Age: | Age 4 by April 1st |
| Days: | Monday – Thursday |
| Times: | 1:00pm – 3:30pm |
| Rate: | $292 per month |
The Pre-K Class is older four and five year olds. Everything about this group is "more".  There are two circle times each day, one of which include an opportunity for "share and tell" which provides a chance to speak to the group and gives the other children an opportunity for asking questions, waiting for a turn to talk and staying  "on topic".
Longer term projects (quilt making, book writing and illustrating, constructions, etc.)
Some form of journaling or writing/dictation most every week, lots of literacy extensions
More field trips
Hikes and trips to the local park
More nature exploration with research involved
Towards the second half of the year, the class begins reading some chapter books at circle time
Community Service projects like food drives, etc.
And of course all the fun and games that are included with the other classes
LUNCH & PLAY
| | |
| --- | --- |
| Age: | Open to all enrolled students |
| Days: | Monday – Friday |
| Times: | 11:30am – 1:00pm |
| Rate: | $8 per session |
Lunch and Play is a teacher supervised program from 11:30am-1:00pm each day where currently enrolled students can come early or stay after class (depending on which class they attend) and have lunch and play with their friends.  Parents are responsible for covering parent teaching shifts to support the teacher and space reservation is required.
GENERAL NOTES:
One time, non-refundable registration & materials fee also applicable.
All classes are limited to a maximum of 16 children.
Scholarships are available to families with demonstrated need.
Tuition rates listed above are for the 2014-2015 school year and are subject to change.
Wait List
Contact us now to have your child added to the wait list for the current or upcoming school year.  No payment is required until a spot has been confirmed for your child.  Please visit our Registration FAQ page for more information.